What are you making? What are you writing? How are you resting?
Recipes, Soaks, Photos & More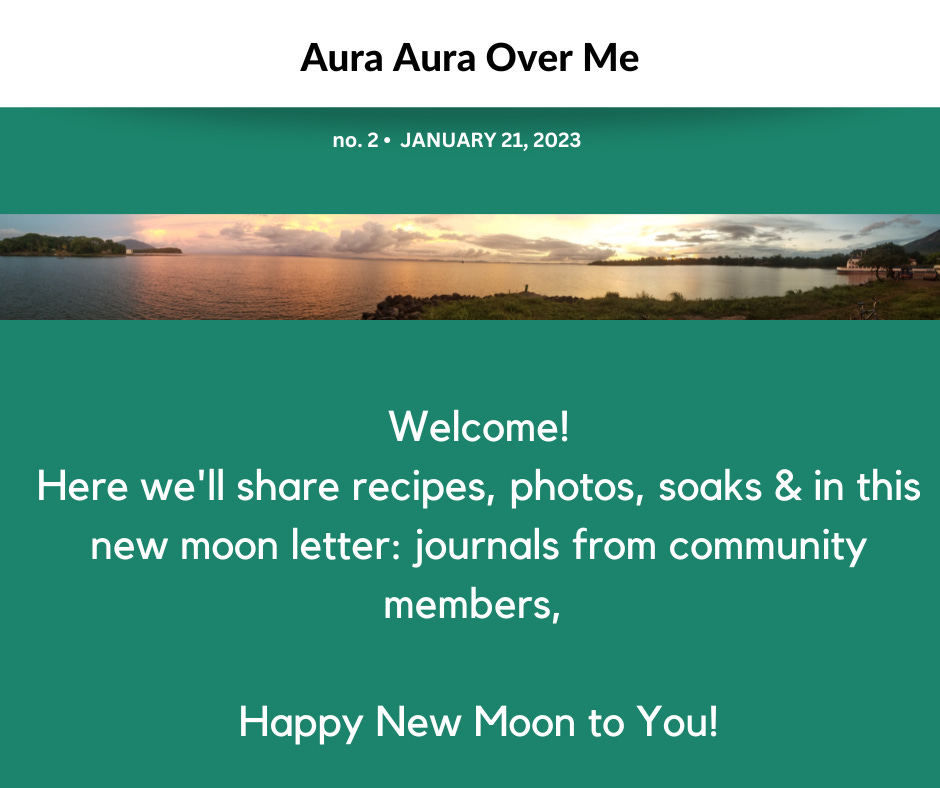 ---
💡
Action Requested / Housekeeping Note:
Please respond to this email with the word "peace" to ensure that these newsletters are hitting your inbox and not spam. Replying to this email signals to mail servers that this newsletter shouldn't go to Spam.
---
→ Check out and follow
→🎙️ Sound on
Our Wolf Moon playlist is here. Go 'head, take a listen.
→ New Moon Journal
---
New Moon Journal Offered by:
Danielle L. Mooney / Savage Wallflower
What do I need to remember? What do I need to learn?
Sitting up in my bed. The only sound is that of my fan and air purifier. Room lit by blue-light desk lamp, a string of lights around my pink moon phases tapestry, a yellow candle on my altar, and a white third-eye candle on my window seal.


It's a beautiful mood, sound and sight. I am reflecting on a reading. One part is on my mind at the moment.

Career and life's purpose. The reader mentioned I am really drawn to community and relationships. This, I have heard in other readings and in my own exploration of self. Yet, people and I have been an interesting concoction of experiences. Another thing that came up is being intuitive and a healer, they based this on my life path number and the IFA Reading. I've said in the past I want to utilize my studies and passion for the human mind, humanity, and stories that make a difference.

Today,

I dabble in filmmaking, mostly as a producer who longs to write beautiful scripts.
Today,

I fantasize about home design and being able to flip homes at an affordable rate and through grants and other sources of funding that allow transitioning and working families to have the home of their dreams at low or no costs to them.

Today,

I wonder what it'd be like to be an entrepreneur…a very successful one with the means to take sabbaticals to travel, write, study and just be. I wonder what it's like to be.....me, freely.
Which is my authentic self? Or which parts of the many facets are authentic? Where is the misalignment? What do I need to shed? What do I need to remember? What do I need to learn?

cue: Brandy - Sittin' Up in My Room (Official Video)
Thank you, Danielle!
---
👩🏿‍🍳RECIPES
---
🛀🏾 SOAKS - Sign Up for an upcoming soak circle
We're planning out our next soak! Please sign up here to find out when & where it will take place.
---
📷 PHOTOS
---
Community Whatsapp Voice Notes & Check-in
Hey fam, you can send us a WhatsApp message letting us know:
what you do not like about today's letter
what's missing
Let us know your check-in
What's capturing your attention?
You can do all the things!!
---
Thank you fam!! Aura Aura Over Me is a completely community-supported newsletter highlighting the arts of poetry, gathering and media.

The best ways to support are (1) subscribing, (2) sharing this newsletter with friends and family and (3) by becoming a TWIN to Aura Aura Over Me.